National Merit Scholarship Semifinalists Named at JMHS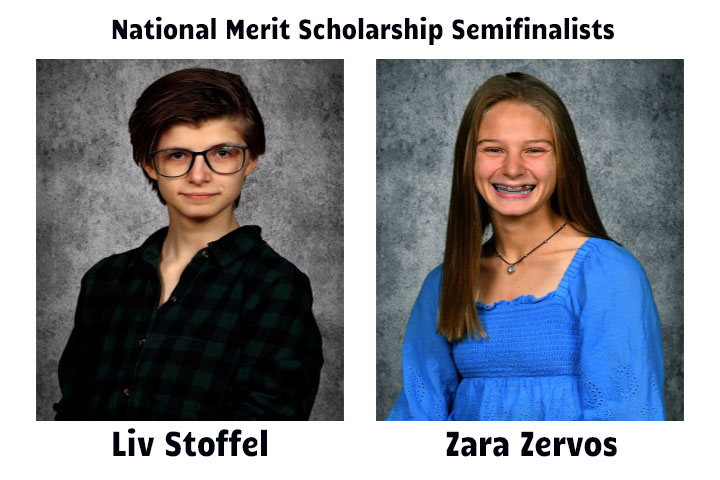 John Marshall High School seniors Liv Stoffel and Zara Zervos have earned the title of National Merit Scholarship Semifinalist. Each girl qualified as a result of her combined scores in critical reading, mathematics and writing on the Preliminary SAT/National Merit Scholarship Qualifying Test (PSAT NMSQT).
"This is such an honor for Liv and Zara to be recognized," said John Marshall High School Principal Cassie Porter. "As a staff, we are proud of their accomplishment on the PSAT NMSQT and in the effort they invest in their education daily. Both students are so worthy of recognition."
More than 1.6 million juniors across the country participated in the initial screening for the program. Approximately 16,000 Semifinalists have been named in the 66th annual National Merit Scholarship Program. Stoffel and Zervos are two of only 62 West Virginia seniors who have qualified. Nationwide, the Semifinalists represent less than one percent of U.S high school seniors. The number of Semifinalists in each state is proportional to the state's percentage of the national total of graduating seniors.
"Liv Stoffel is a thoughtful and creative student who takes agency in her own learning and supports the learning of others," Porter said. Stoffel is the daughter of Rebecca Meacham and David Stoffel of Moundsville. She is undecided in her major and college.
"Zara Zervos has challenged herself with some of John Marshall's most advanced classes and proves that she can be an excellent student, athlete, and musician," explained Porter. "She is a leader among her peers." Zervos is the daughter of Ted and Shawna Zervos of Moundsville. She is undecided in where she is attending for her post-secondary education but plans to major in Aerospace Engineering.
To be considered a Finalist, the next step is for Stoffel and Zervos to submit her own detailed scholarship application on which information is provided about academic records, school and community activities, leadership abilities, employment and honors/awards received. Each student must also be endorsed and recommended by a John Marshall High School official, write an essay and earn SAT scores that are in line with performance on the qualifying test.
In February, Semifinalists will be notified, by mail, if they have been chosen as a Finalist. All winners of Merit Scholarship Awards are chosen based on their abilities, skills and accomplishments without regard to gender, race, ethnic origin or religious preference.
2021 National Merit Scholarship winners will be announced beginning in April and conclude in July.