September K of C JM Students of the Month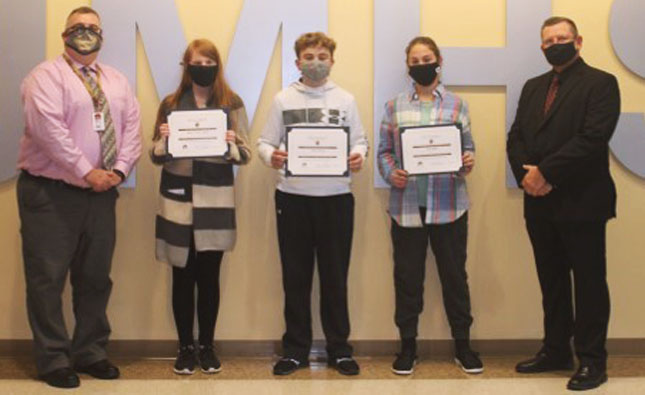 The first Knights of Columbus John Marshall Students of the Month for the 2020-2021 school year are Connor Dorsey, Angela "Lacy" Triplett and Carlee Yoho. Lou Richmond, Grand Knight of the Knights of Columbus presented these students their awards.
Connor's interests include history and baseball. He is also a member of John Marshall's History Bowl team, which qualified for states.
Lacy enjoys drawing and writing and plans to continue creating art in the future. She also enjoys making new friends and is proud of her good grades.
Carlee likes to play softball and plans to play for John Marshall this year. She enjoys showing animals at the Marshall County Fair, where she has placed first.
John Marshall Freshman Principal Geno Polsinelli feels these students have overcome the "challenge of what we've been going through with the pandemic and really stand out." He believes they've really made an impact whether learning through remote means or face-to-face.
Article and Photograph by Leah Beaton, Senior WJMH Broadcasting Student