January 2023 K of C Students of the Month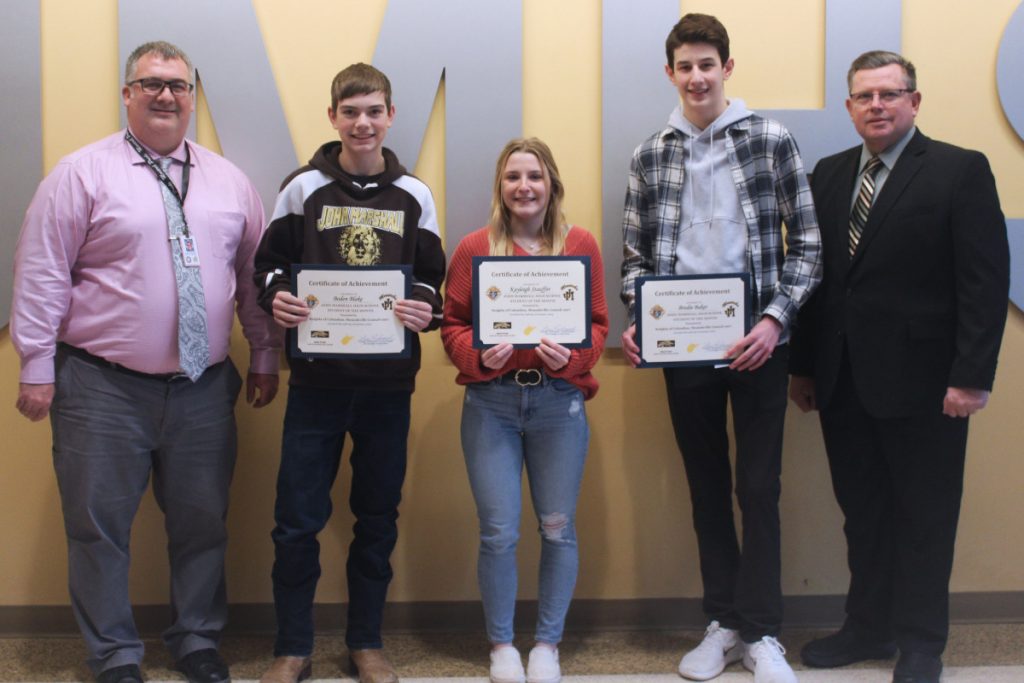 The Knights of Columbus John Marshall Students of the Month for January are Brodie Baker, Bo Blake and Kayleigh Stauffer. Grand Knight Lou Richmond of the Knights of Columbus gave these students their awards.
Brodie Baker's interests include swimming, cross country and track and JM Outdoor Club. He is also an Eagle Scout. His interests in school include social studies. Brodie says his greatest accomplishment is getting his Eagle Scout, and being accepted to go to Naval Academy camp.
Bo Blake's interests include racing dirt bikes and mountain bikes, baseball and having fun outside. His favorite class and interests in school include math, history, science and shop class. Bo says his greatest accomplishment is being a good student.
Kayleigh Stauffer's interests include softball and cheerleading. Her interests in school include math. Kayleigh says her greatest accomplishment is making friendships that she didn't think she'd make.
John Marshall High School Freshman Principal Geno Polsinelli says, "I think these students really exemplify what being a monarch is all about." He also says these students work really hard not only in the classroom and have great personalities, but these students are also involved in extracurricular activities and many different clubs at John Marshall.
Photograph and Article written by Angie Haught, Sophomore WJMH Broadcasting Student