Wheeling Symphony Guest Artists Visit JMHS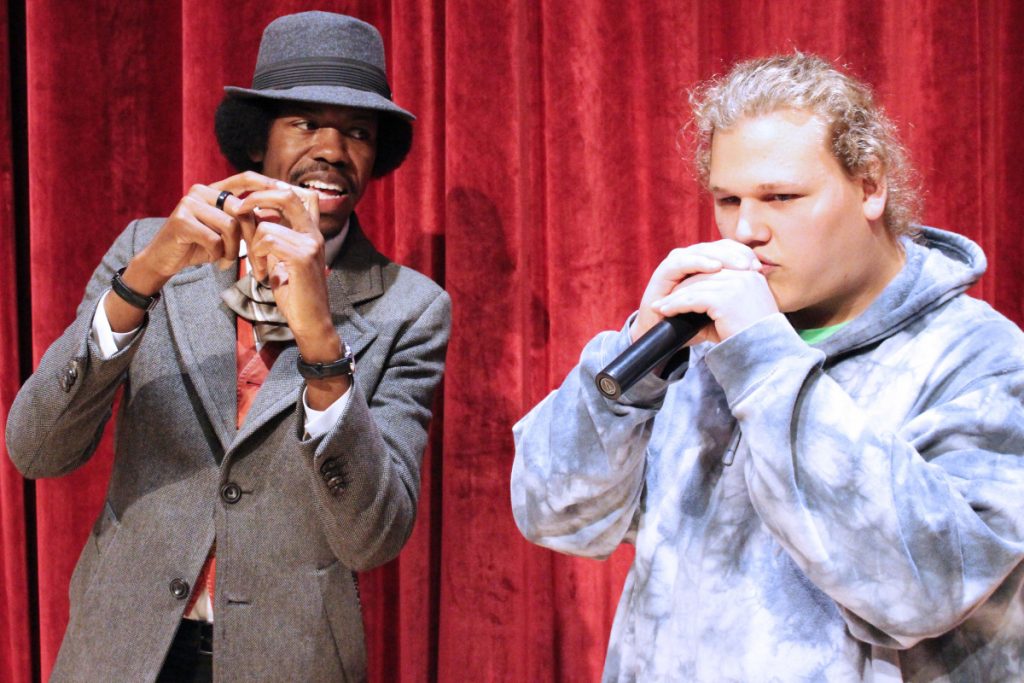 The Wheeling Symphony Orchestra's Opening Night Gala Celebration will feature American music, composers and artists, two of which presented a masterclass workshop at John Marshall High School Tuesday morning. Strings, Band, Chorus, Broadcasting and English Language Arts students participated in the seminar.
Evan Meier (composer) was commissioned by the WSO to create a piece for the special gala. This new piece, Migrations in Rhythm, explores the way the United States has served as a point of musical intersection for so many different cultures. West African music met with Irish step dancing in Washington DC and gave birth to Go-Go in the 1970s. Black, Brazilian and Cubano music collided in New York City and gave birth to Hip-hop and trap in the 80s and 90s.
Christylez Bacon rapped and used the words to tell the story of these musical migrations— and then employed beat-boxing to demonstrate the styles as they fuse into completely new forms. A few examples of musical styles and stories that are represented in this piece include: West African/Mbalax music, Irish Step Music, Go-Go, Brazilian Music (Bossa Nova and Samba), Cuban Music (Salsa and Rumba), Hip-hop and Trap
The world premiere of the piece was a collaboration of Meier (composer) and Hip-Hop artist Christylez Bacon, a musician known for his ability to blend genres and a deep respect for the history of American music. WSO Music Director John Devlin and Christylez Bacon jointly chose to collaborate with composer Evan Meier, another DC-based artist, who has a long history of taking eclectic styles of music, and combining them into orchestral compositions that have a narrative element.
JM students in attendance were treated to sneak preview of the upcoming concert and were able to ask questions about the music and the guest artists' careers. Select students will attend the opening night gala performance later this week at the Capitol Theatre in Wheeling.