Mr. and Ms. Monarch Announced at JMHS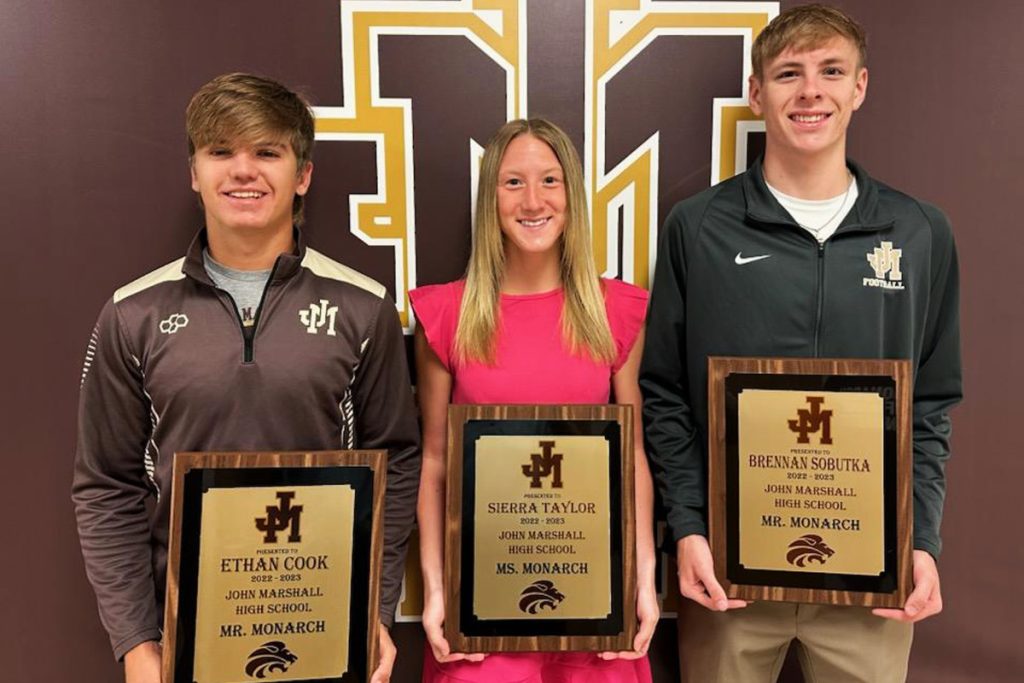 Ethan Cook and Brennan Sobutka along with Sierra Taylor have earned the title of Mr. and Ms. Monarch at John Marshall High School for the 2022-2023 academic year.
The annual award is based on a point system. Student athletes get credit for participating in a team or individual sport while in high school. Bonus points are awarded for a variety of achievements, for example: lettering in a sport, being named to an All-State or All-Conference team and academic achievements.
This year, Mr. Monarch resulted in a tie due to baseball conference awards being named after the season (and graduation) in June. Once those points were tabulated, there ended up being a tie on the boys' side. This is the third such tie in the history of the award.
Ms. Monarch Sierra Taylor was a three-sport athlete and 11-time letter winner in track, cross country and swimming highlighted by placing at the state swim meet the past two years.
Mr. Monarch (Tie) Brenna Sobutka was a three-sport athlete and 9-time letter winner in football, basketball and baseball. Sobutka was recognized for his basketball play by being named 1st team OVAC during his senior year. He was also in the top 10% of the JMHS Class of 2023.
Mr. Monarch (Tie) Ethan Cook was a four-sport athlete and 9-time letter winner in baseball, wrestling, cross country and golf. Ethan's highlights include an OVAC wrestling championship and a runner-up finish at the OVAC golf tournament.